Frequency of C4d Positivity in Membranous and other Glomerulonephritis in Renal Biopsy Specimens in a Tertiary Care Hospital
Abstract
Objective: To determine the frequency of C4d positivity in Membranous and other Glomerulonephritis in renal biopsy specimens.
Methodology: This cross-sectional study was carried out in the Pathology Department, Ziauddin Medical University and Hospital, Karachi, from December 2018 to April 2019. Non-probability consecutive sampling technique was used.. A sample size of 91 patients was calculated and selected by open EPI software with a 95% confidence interval. All patients of either gender with a clinical history of Glomerulonephritis were included. The diagnosis was made on sections stained with hematoxylin and eosin (H&E) along with special stains. Immunohistochemistry was performed on selected biopsies with glomerular basement thickness using the peroxidase-anti peroxidase technique for C4d. Patient data were compiled and analyzed through a statistical package for the Social Sciences (SPSS) Version 20.0. P-value ?0.05 was considered significant.
Results: A total of 91 cases of the renal biopsy were evaluated. There were 51.6% (47/91) were male, and 48.4% (44/91) were female patients. There were 49 (53.8%) cases reported as Focal segmental glomerulosclerosis, 35(38.5%) were diagnosed as Membranous Glomerulonephritis, and 07 (7.7%) cases were reported as Mesangiocapillary Glomerulonephritis.
The frequency distribution of C4d staining results in Membranous Glomerulonephritis was 100% (35/91), Mesangiocapillary glomerulonephritis 100% (7/91), and Focal segmental glomerulosclerosis was 0% (0/91).
Conclusion: C4d positivity on immunohistochemistry (IHC) can be an important marker for diagnosing membranous nephropathy.
Key Words: Glomerulonephritis, Immunofluorescence, immunohistochemistry C4d Positivity.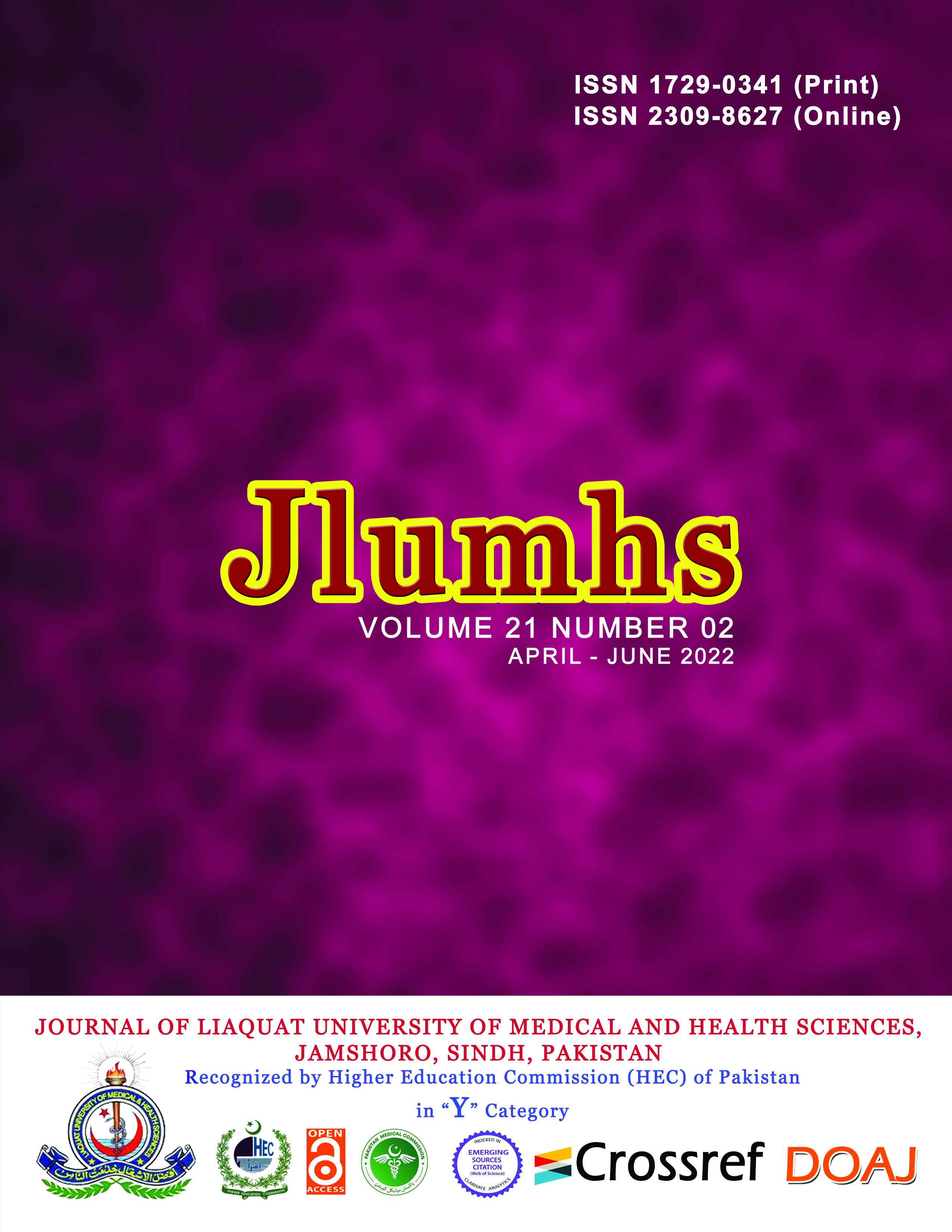 Downloads
How to Cite
Shafique, M., Bukhari, U., Kumar, S., Raza, M., & Bukhari, A. (2022). Frequency of C4d Positivity in Membranous and other Glomerulonephritis in Renal Biopsy Specimens in a Tertiary Care Hospital. Journal of Liaquat University of Medical & Health Sciences, 21(02), 102–106. Retrieved from http://ojs.lumhs.edu.pk/index.php/jlumhs/article/view/721
Section
Original Articles
License
Copyright (c) 2022 Journal of Liaquat University of Medical & Health Sciences
This work is licensed under a Creative Commons Attribution-NonCommercial-ShareAlike 4.0 International License.
Articles in the Journal of Liaquat University of Medical & health sciences are open access articles under a Creative Commons Attribution-NonCommercial-ShareAlike 4.0 License.This license permits use, distribution and reproduction in any medium; provided the original work is properly cited and initial publication in this journal. This is in accordance with the BOAI definition of open access. In addition to that users are allowed to remix, tweak and build upon the work non-commercially as long as appropriate credit is given and the new creations are licensed under the identical terms.