The Integration of Artificial intelligence and Diagnostic Medicine: A New Era of Healthcare
Keywords:
Artificial intelligence, Diagnostic Medicine, Healthcare
References
Kumar Y, Koul A, Singla R, Ijaz MF. Artificial intelligence in disease diagnosis: a systematic literature review, synthesizing framework and future research agenda. J Ambient Intell Humaniz Comput. 2022; 1-28. doi: 10.1007/s12652-021-03612-z.
Reddy S, Fox J, Purohit MP. Artificial intelligence-enabled healthcare delivery. J R Soc Med. 2019; 112(1): 22-8. doi: 10.1177/0141076818815510.
Behara K, Bhero E, Agee JT, Gonela V. Artificial intelligence in medical diagnostics: A review from a South African context. Sci Afr. 2022; 17: e01360. doi: 10.1016/j.sciaf. 2022.e01360.
Rakha EA, Toss M, Shiino S, Gamble P, Jaroensri R, Mermel CH et al. Current and future applications of artificial intelligence in pathology: a clinical perspective. J Clin Pathol. 2021; 74(7): 409. doi: 10.1136/jclinpath-2020-206908.
Khurd P, Bahlmann C, Maday P, Kamen A, Gibbs-Strauss S, Genega EM et al. Computer-aided Gleason grading of prostate cancer histopathological images using texton forests. Proc IEEE Int Symp Biomed Imaging. 2010; 636-639. doi: 10.1109/ISBI.2010.5490096.
Couture HD, Williams LA, Geradts J, Nyante SJ, Butler EN, Marron J et al. Image analysis with deep learning to predict breast cancer grade, ER status, histologic subtype, and intrinsic subtype. NPJ Breast Cancer. 2018; 4(1): 30. doi: 10.1038/s41523-018-0079-1.
Hegde N, Hipp JD, Liu Y, Emmert-Buck M, Reif E, Smilkov D et al. Similar image search for histopathology: SMILY. NPJ Digit Med. 2019; 2(1): 56. doi: 10.1038/s41746-019-0131-z.
Alrefaei AF, Hawsawi YM, Almaleki D, Alafif T, Alzahrani FA, Bakhrebah MA. Genetic data sharing and artificial intelligence in the era of personalized medicine based on a cross?sectional analysis of the Saudi human genome program. Sci Rep. 2022; 12(1): 1405. doi: 10.1038/s41598-022-05296-7.
Shreve JT, Khanani SA, Haddad TC. Artificial Intelligence in Oncology: Current Capabilities, Future Opportunities, and Ethical Considerations. Am Soc Clin Oncol Educ Book. 2022; 42: 842-51. doi: 10.1200/EDBK_350652.
Kaul V, Enslin S, Gross SA. History of artificial intelligence in medicine. Gastrointest Endosc. 2020; 92(4): 807-12. doi: 10.1016/j.gie.2020.06.040.
Gargeya R, Leng T. Automated identification of diabetic retinopathy using deep learning. Ophthalmology. 2017; 124(7): 962-9. doi: 10.1016/j.ophtha.2017.02.008.
Mathotaarachchi S, Pascoal TA, Shin M, Benedet AL, Kang MS, Beaudry T et al. Identifying incipient dementia individuals using machine learning and amyloid imaging. Neurobiol Aging. 2017; 59: 80-90. doi: 10.1016/j.neurobiolaging.2017.06.027.
Ahmed Z, Bhinder KK, Tariq A, Tahir MJ, Mehmood Q, Tabassum MS et al. Knowledge, attitude, and practice of artificial intelligence among doctors and medical students in Pakistan: A cross-sectional online survey. Ann Med Surg. 2022; 76: 103493. doi: 10.1016/j. amsu.2022.103493.
National Center of Artificial Intelligence. (Retrieved March 28, 2023). https://ncai.nust.edu.pk/
Kumar A, Gadag S, Nayak UY. The Beginning of a New Era: Artificial Intelligence in Healthcare. Adv Pharm Bull. 2021; 11(3): 414. doi: 10.34172/apb.2021.049.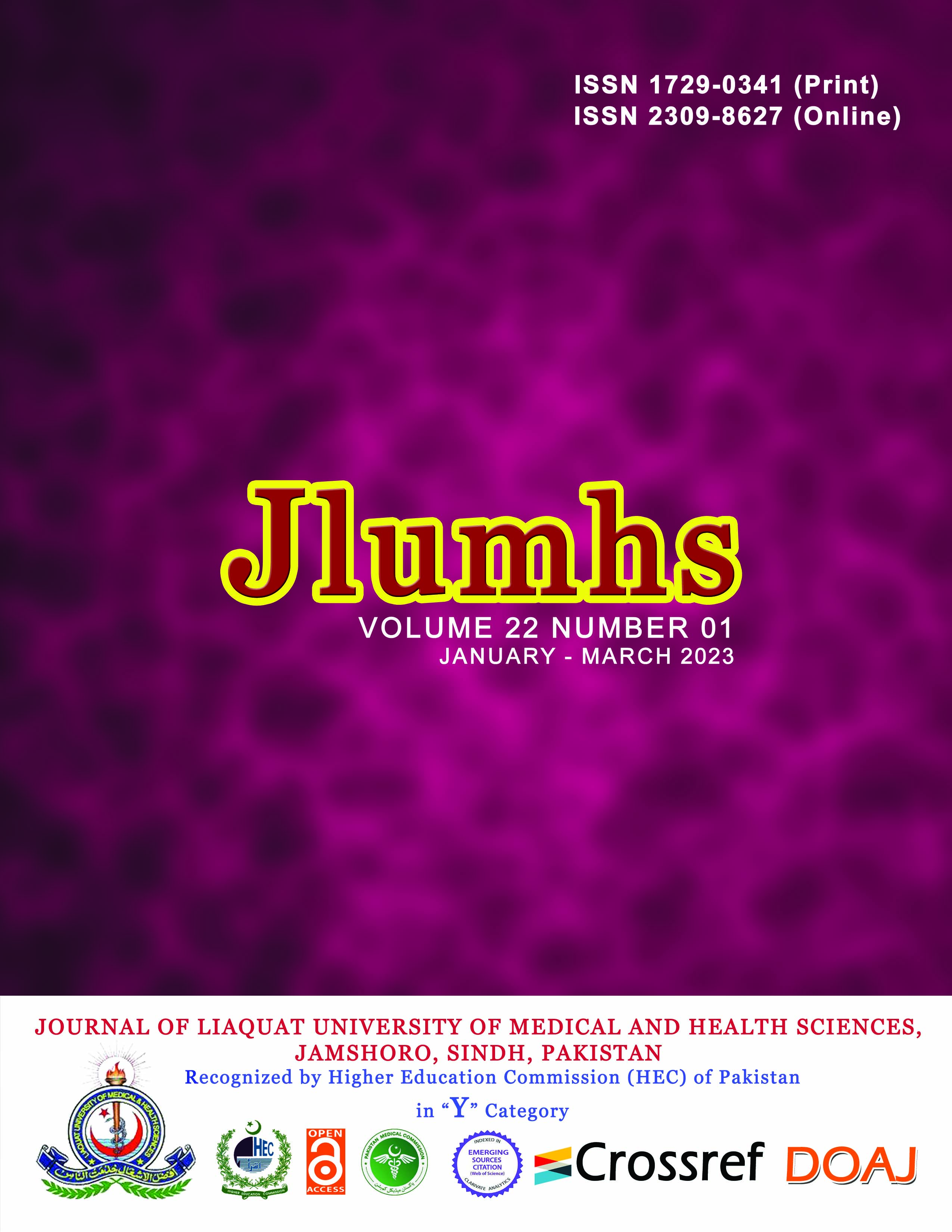 Downloads
How to Cite
1.
Khidri FF. The Integration of Artificial intelligence and Diagnostic Medicine: A New Era of Healthcare. J Liaq Uni Med Health Sci [Internet]. 2023 Apr. 3 [cited 2023 May 30];22(01):01-2. Available from: http://ojs.lumhs.edu.pk/index.php/jlumhs/article/view/1135
License
Copyright (c) 2023 Journal of Liaquat University of Medical & Health Sciences
This work is licensed under a Creative Commons Attribution-NonCommercial-ShareAlike 4.0 International License.
Articles in the Journal of Liaquat University of Medical & health sciences are open access articles under a Creative Commons Attribution-NonCommercial-ShareAlike 4.0 License.This license permits use, distribution and reproduction in any medium; provided the original work is properly cited and initial publication in this journal. This is in accordance with the BOAI definition of open access. In addition to that users are allowed to remix, tweak and build upon the work non-commercially as long as appropriate credit is given and the new creations are licensed under the identical terms.