To Determine Clinical Outcome of Platelet Rich Fibrin in Pulpotomy of Permanent Teeth in Irreversible Pulpitis
Abstract
Objective: To determine the clinical efficacy of platelet-rich fibrin (PRF) in Pulpotomy of permanent teeth in irreversible pulpitis.
Methodology: This observational study was conducted in the Department of Operative Dentistry, Liaquat University of Medical and Health Sciences, Jamshoro / Hyderabad, from January to December 2019, through the non-probability purposive sampling technique. Fifty patients were included of both genders, ranging from 18-50 years. Irreversible pulpitis was diagnosed by lingering pain on hot and cold touch with normal peri-apical status. The written consent was taken from all participants. Each patient was evaluated clinically for the presence of pain, and peri-apical radiographs were taken. A visual analog scale (VAS) measured patients' pain before and after treating pulpitis. After treatment of patients, the efficacy of PRF was evaluated by a pain scale. The results were statistically compiled by SPSS version-21 and applying the "t"-test.
Results: The severity of pain was observed as; severe in 18 (36%), moderate in 28 (56%) and mild in 4 (8%) patients before starting the treatment. After 24 hours treating with PRF, 40 (80%) patients became pain-free, 1 (1%) with moderate, while the 9 (18%) patients were observed with mild pain; the results obtained were highly significant with a p-value <0.05.
Conclusion: PRF is effective for treating irreversible pulpitis occurring in permanent teeth.
Keywords: PRF, VAS, Permanent teeth, Pulpotomy, irreversible pulpitis.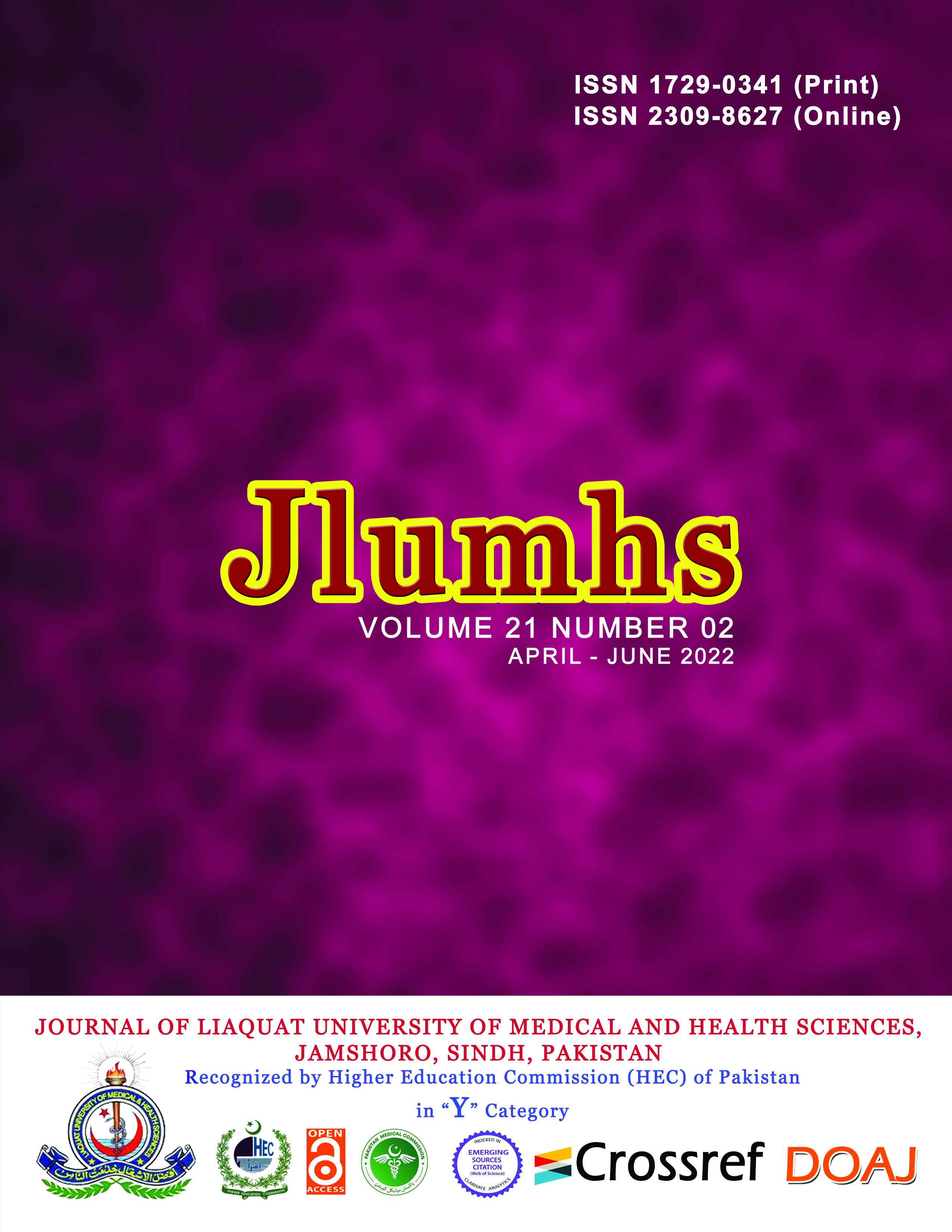 Downloads
How to Cite
Sahito, A. H. ., Khuhawar, S. R., Jokhio, A. L. ., Tagar, M. R. ., Shaikh, M. A. ., & Kalwar, M. R. . (2022). To Determine Clinical Outcome of Platelet Rich Fibrin in Pulpotomy of Permanent Teeth in Irreversible Pulpitis. Journal of Liaquat University of Medical & Health Sciences, 21(02), 117–120. Retrieved from http://ojs.lumhs.edu.pk/index.php/jlumhs/article/view/424
Section
Original Articles
License
Copyright (c) 2022 Journal of Liaquat University of Medical & Health Sciences
This work is licensed under a Creative Commons Attribution-NonCommercial-ShareAlike 4.0 International License.
Articles in the Journal of Liaquat University of Medical & health sciences are open access articles under a Creative Commons Attribution-NonCommercial-ShareAlike 4.0 License.This license permits use, distribution and reproduction in any medium; provided the original work is properly cited and initial publication in this journal. This is in accordance with the BOAI definition of open access. In addition to that users are allowed to remix, tweak and build upon the work non-commercially as long as appropriate credit is given and the new creations are licensed under the identical terms.