Tele-Psychiatry during COVID-19 at HMC Peshawar
Keywords:
Tele-psychiatry, Covid-19, depression, anxiety, new patients and area of living.
Abstract
Objective: The main objectives of the current study were to find out the frequencies of Psychiatric disorders in the general population during COVID-19 and to compare the gender-based association between newly diagnosed patients during COVID-19 with already existing psychiatric patients in Peshawar to provide patient care on priority bases.
Methodology: This Cross-sectional design study was carried out in the Department of Psychiatry and Behavioral Sciences, HMC/MTI, from May to August 2020. Those patients who approached psychiatry OPD through video/audio online calls and could understand and respond to suggestions were included. The bio-data was collected, and DSM-5 criteria were used for diagnosis. Descriptive statistics were used for statistical significance, and the statistical package of social sciences (SPSS-21) was used for analysis and results.
Results: The results findings of the current study revealed that 59.3% of the patients approached for telepsychiatry consultation were from the district of Peshawar. Among them, 54% were female, and most patients were young married females (50.7%) with no job outside the home. The finding further revealed that most of the sample affected by psychiatric illness were uneducated (31.3%) and unemployed (28%). Furthermore, in the present findings, 46% of patients were diagnosed with depression, and 12% had Dissociative disorders.
Conclusion: It is concluded from the present study that in the Covid-19 Pandemic, primarily females who were married with no job description are more vulnerable to psychiatric illness. Furthermore, during Covid-19 mostly cases were reported with depression and dissociative disorders.
References
European Centre for Disease Prevention and Control. Coronavirus Disease 2019 (COVID-19) in the EU/EEA and the UK – Ninth update, 23 April 2020. Stockholm: ECDC; 2020.
Asadi-Pooya AA, Simani LL. Central nervous system manifestations of COVID-19: a systematic review. J Neurol Sci. 2020; 413: 116832. doi: 10.1016/j.jns.2020.116832. Epub 2020 Apr 11.
Asmundson GJ, Taylor S. Coronaphobia: Fear and the 2019-nCoV outbreak. Journal of Anxiety Disorders. 2020; 70: 102196. Published online 2020 Feb 10. doi: 10.1016/j.janxdis.2020.102196.
Qiu J, Shen B, Zhao M, Wang Z, Xie B, Xu Y. A nationwide survey of psychological distress among Chinese people in the COVID-19 epidemic: implications and policy recommendations. Gen. Psychiatr. 2020; 33(2): e100213. doi: 10.1136/gpsych-2020-100213.
Huang Y, Zhao N. Generalized anxiety disorder, depressive symptoms and sleep quality during COVID-19 outbreak in China: a web-based cross-sectional survey. Psychiatry Res. 2020; 288: 112954. doi: 10.1016/j.psychres.2020.112954.
Elbay RY, Kurtulmus A, Arpac?oglu S, Karadere E. Depression, anxiety, stress levels of physicians and associated factors in Covid-19 pandemics. Psychiatry Res. 2020; 290: 113130. doi: 10.1016/j.psychres.2020.113130.
Kokou-Kpolou CK, Megalakaki O, Laimou D, Kousouri M. Insomnia during COVID-19 Pandemic and lockdown: prevalence, severity, and associated risk factors in France population. Psychiatry Res. 2020; 290: 11312. doi: 10.1016/j.psychres.2020.113128. Epub 2020 May 26.
Voitsidis P, Gliatas I, Bairachtari V, Papadopoulou K, Papageorgiou G, Parlapani E et al. Insomnia during the COVID-19 Pandemic in a Greek population. Psychiatry Res. 2020; 289: 113076. doi: 10. 1016/j.psychres.2020.113076.
Liu N, Zhang F, Wei C, Jia Y, Shang Z, Sun L et al. Prevalence and predictors of PTSS during COVID-19 outbreak in China hardest-hit areas: gender differences matter. Psychiatry Res. 2020; 287: 112921. doi: 10.1016/j.psychres.2020.112921. Epub 2020 Mar 16.
Galea S, Merchant RM, Lurie N. The mental health consequences of COVID-19 and physical distancing: the need for prevention and early intervention. JAMA Intern Med. 2020; doi: 10.1001/jamainternmed.2020.1562.
Hwang TJ, Rabheru K, Peisah C, Reichman W, Ikeda M. Loneliness and Social Isolation during the COVID-19 Pandemic. Int. Psychogeriatr. 2020; 1-4. doi: org/10.1017/S1041610220000988.
Killgore WDS, Cloonan SA, Taylor EC, Dailey NS. Loneliness: a signature mental health concern in the era of COVID-19. Psychiatry Res. 2020; 290: 113117. doi: 10.1016/j.psychres.2020.113117.
Lu W, Wang H, Lin Y, Li L. Psychological status of medical workforce during the COVID-19 Pandemic: a cross-sectional study. Psychiatry Res. 2020; 288: 112936. doi: 10.1016/j.psychres. 2020.112936. Epub 2020 Apr 4.
Hubley S, Lynch S, Schneck C, Thomas M, Shore J. Review of key telepsychiatry outcomes. World J Psychiatry. 2016; 6(2): 269-282. doi: 10.5498/wjp.v6.i2.269.
American Psychiatric Association. Cautionary statement for forensic use of DSM-5. Diagnostic and statistical manual of mental disorders (5th ed). Washington, DC. 2013.
Serafini G, Parmigiani B, Amerio A, Aguglia A, Sher L, Amore M. The psychological impact of COVID-19 on the mental health in the general population. QJM. 2020; 113(8): 531-7. doi: 10.1093/qjmed/hcaa201.
Yu S. Uncovering the hidden impacts of inequality on mental health: a global study. Transl Psychiatry. 2018; 8: 98. doi: 10.1038/s41398-018-0148.
Jalnapurkar I, Allen M, Pigott AT. Sex differences in anxiety disorders: A review.
J Psychiatry Depress Anxiety. 2018; 4: 012. doi: 10.24966/PDA0150/100012.
Bell DNF, Blanchflower DG. Young people and the Great Recession. IZA Discussion Paper No. 5674. Available from: https://ssrn.com/abstract-1835313. doi: 10.2139/ssrn. 1835313.
Bao L, Li WT, Zhong BL. Feelings of loneliness and mental health needs and services utilization among Chinese residents during the COVID-19 epidemic. Global Health. 2021; 17: 51.
COVID-19 Mental Disorders Collaborators. Global prevalence and burden of depressive and anxiety disorders in 204 countries and territories in 2020 due to the COVID-19 Pandemic. 2021; 398(10312): 1700-12. doi: 10.1016/S0140-6736(21)02143-7. Epub 2021 Oct 8.
Bu F, Steptoe A, Fancourt D. Who is lonely in lockdown? Cross-cohort analyses of predictors of loneliness before and during the COVID-19 Pandemic. Public Health. 2020; 186: 31-4. doi: 10.1016/j.puhe.2020.06.036. Epub 2020 Aug 5.
Li LZ, Wang S. Prevalence and predictors of general psychiatric disorders and loneliness during COVID-19 in the United Kingdom. Psychiatry Res. 2020; 291: 113267. doi: 10.1016/j.psychres.2020.113267. Epub 2020 Jun 30.
Zhang Z, Feng Y, Song R, Yang D, Duan X. Prevalence of psychiatric diagnosis and related psychopathological symptoms among patients with COVID-19 during the second wave of the Pandemic. Global Health. 2021; 17(1):44. doi: 10.1186/s12992-021-00694-4.
Frasquilho D, Matos MG, Salonna F, Guerreiro D, Storti C, Gasper T et al. Mental health outcomes in times of economic Recession: a systematic literature review. BMC Public Health 2016; 16: 115. doi: 10.1186/s12889-016-2720-y.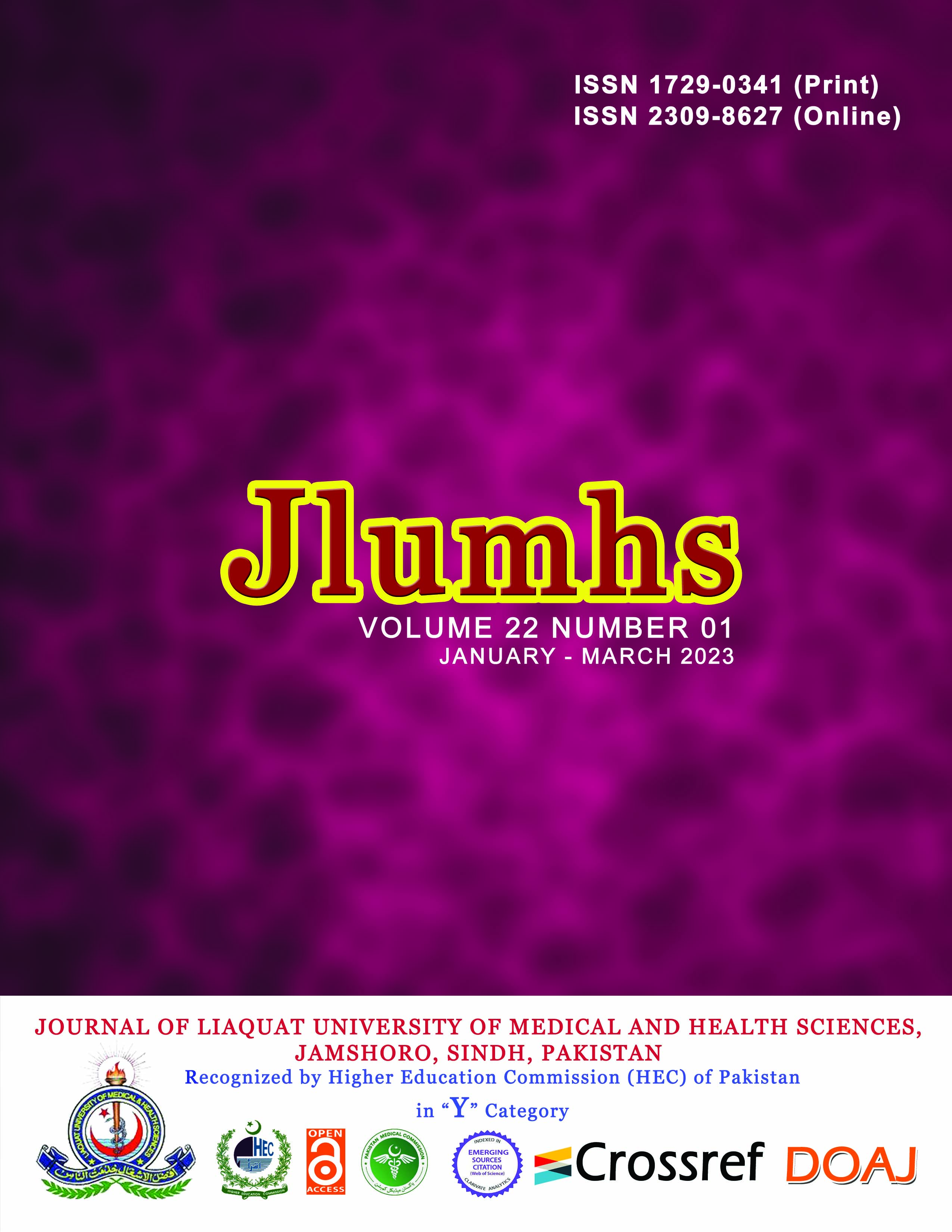 Downloads
How to Cite
1.
Akhunzada WA, Laghari DK, Rasheed H, Abbas A, Hameed N, Ayub S, Mughal H. Tele-Psychiatry during COVID-19 at HMC Peshawar. J Liaq Uni Med Health Sci [Internet]. 2023 Mar. 29 [cited 2023 May 30];22(01):64-7. Available from: http://ojs.lumhs.edu.pk/index.php/jlumhs/article/view/796
Section
Original Articles
License
Copyright (c) 2023 Journal of Liaquat University of Medical & Health Sciences
This work is licensed under a Creative Commons Attribution-NonCommercial-ShareAlike 4.0 International License.
Articles in the Journal of Liaquat University of Medical & health sciences are open access articles under a Creative Commons Attribution-NonCommercial-ShareAlike 4.0 License.This license permits use, distribution and reproduction in any medium; provided the original work is properly cited and initial publication in this journal. This is in accordance with the BOAI definition of open access. In addition to that users are allowed to remix, tweak and build upon the work non-commercially as long as appropriate credit is given and the new creations are licensed under the identical terms.