Outcome of Platelets Rich Plasma (PRP) in Treatment of Plantar Fasciitis
Abstract
Objective: To determine the effectiveness of Platelet-rich plasma (PRP) in the treatment of Plantar fasciitis.
METHODOLOGY: A Quasi-experimental study was conducted at the Department of Orthopedics,
Ward-17, JPMC, Karachi, from July 2018 to June 2019. Diagnosed cases of plantar fasciitis, age ranging from 20-60 years, both genders, with failed conservative treatment of 3 months willing to undergo treatment with PRP injection were included. Patients with a previous history of calcaneal fractures, infection, osteoarthritis of currently affected limbs, skin wounds or lesions, diabetes mellitus and other causes of heel pain were excluded. The selection was made from the outdoor department, and intervention was done as a daycare procedure. Two-three ml of centrifuged PRP was injected into the heel. Patients were followed up at 1, 3 and 6-month intervals post-procedure. Findings were recorded on a predesigned proforma VAS, and Roles and Maudsley scoring was done. Data analysis was done using SPSS version 21.
Results: Two hundred and ninety-five patients were enrolled in the study. There were 5 (1.69%) males and 290 (98.3%) females. 100 (33.89%) patients were between 20-40 years. 195 (66.10%) patients were between 41-60 years. By 3rd follow-up visit, i.e., six months post-intervention, excellent results were obtained in 149 (50.5%) patients. 136 (46.1%) showed good (VAS = 1 to 4) results, 07 (2.37%) had acceptable (VAS = 4 to 6) results and 03 (1.01%) had poor (VAS ? 7) results.
Conclusion: The present study reported that Platelet-rich plasma (PRP) injection successfully improved pain symptoms in most patients, with at least half of the population reporting excellent outcomes.
Keywords: Inflammation, Platelet-rich plasma, Plantar fasciitis.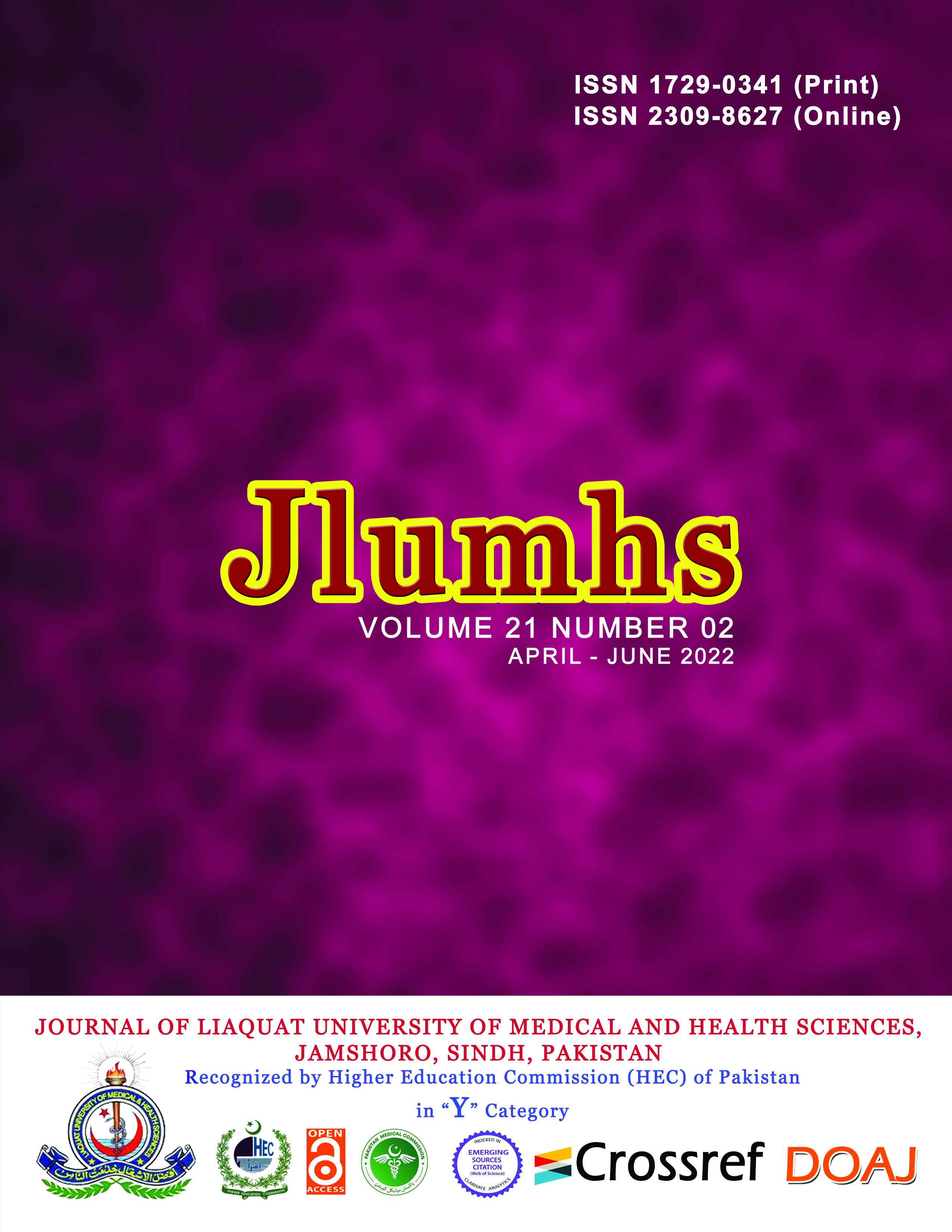 Downloads
How to Cite
Saleem, F. ., Khan, K. M., Memon, I. A., Ali, P. ., Ali, Z., & Junejo, S. . (2022). Outcome of Platelets Rich Plasma (PRP) in Treatment of Plantar Fasciitis. Journal of Liaquat University of Medical & Health Sciences, 21(02), 111–116. Retrieved from http://ojs.lumhs.edu.pk/index.php/jlumhs/article/view/765
Section
Original Articles
License
Copyright (c) 2022 Journal of Liaquat University of Medical & Health Sciences
This work is licensed under a Creative Commons Attribution-NonCommercial-ShareAlike 4.0 International License.
Articles in the Journal of Liaquat University of Medical & health sciences are open access articles under a Creative Commons Attribution-NonCommercial-ShareAlike 4.0 License.This license permits use, distribution and reproduction in any medium; provided the original work is properly cited and initial publication in this journal. This is in accordance with the BOAI definition of open access. In addition to that users are allowed to remix, tweak and build upon the work non-commercially as long as appropriate credit is given and the new creations are licensed under the identical terms.